Invest with Climate Salad Capital
Agtech
Cleantech
Deeptech
Energy
Environmental
Software & Technology
B2B
B2C
Carbon
Data & Analytics
ESG
Hardware
Impact Investing
SDGs
Sustainability
Women-led
About Climate Salad Capital
Climate Salad Capital is the investment arm of Climate Salad, an Aussie community for climate tech startups and scaleups with +400 member companies and +1K founders, their teams, mentors, investors, corporates and government agencies active in climate tech. We see companies and founders early and work with them along the way which is useful when evaluating which to invest in. We collaborate with the broader climate tech investment community providing deal flow and co-investing. 
Climate Salad is a team of experienced startup people working with these companies to help them build a team, get global customers, and connect with investors through community support, tools, and programs. Join this syndicate to get access to early stage and growth climate tech investments.
Why Now?
This is both an important and exciting time for climate tech investing. The convergence of mass customers, regulatory pressure and investor sentiment appears to be building towards a big wave. This is across all sectors. 
Below is a map of the climate tech industry showing it's complexity and opportunity. This shows that climate tech needs to touch nearly all aspects of our lives across the whole world.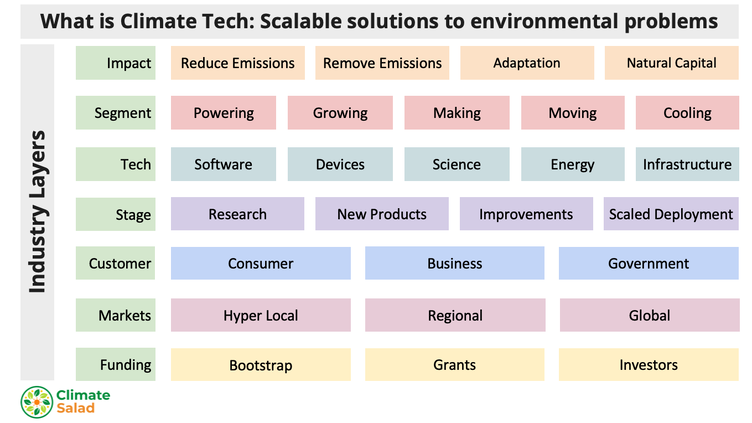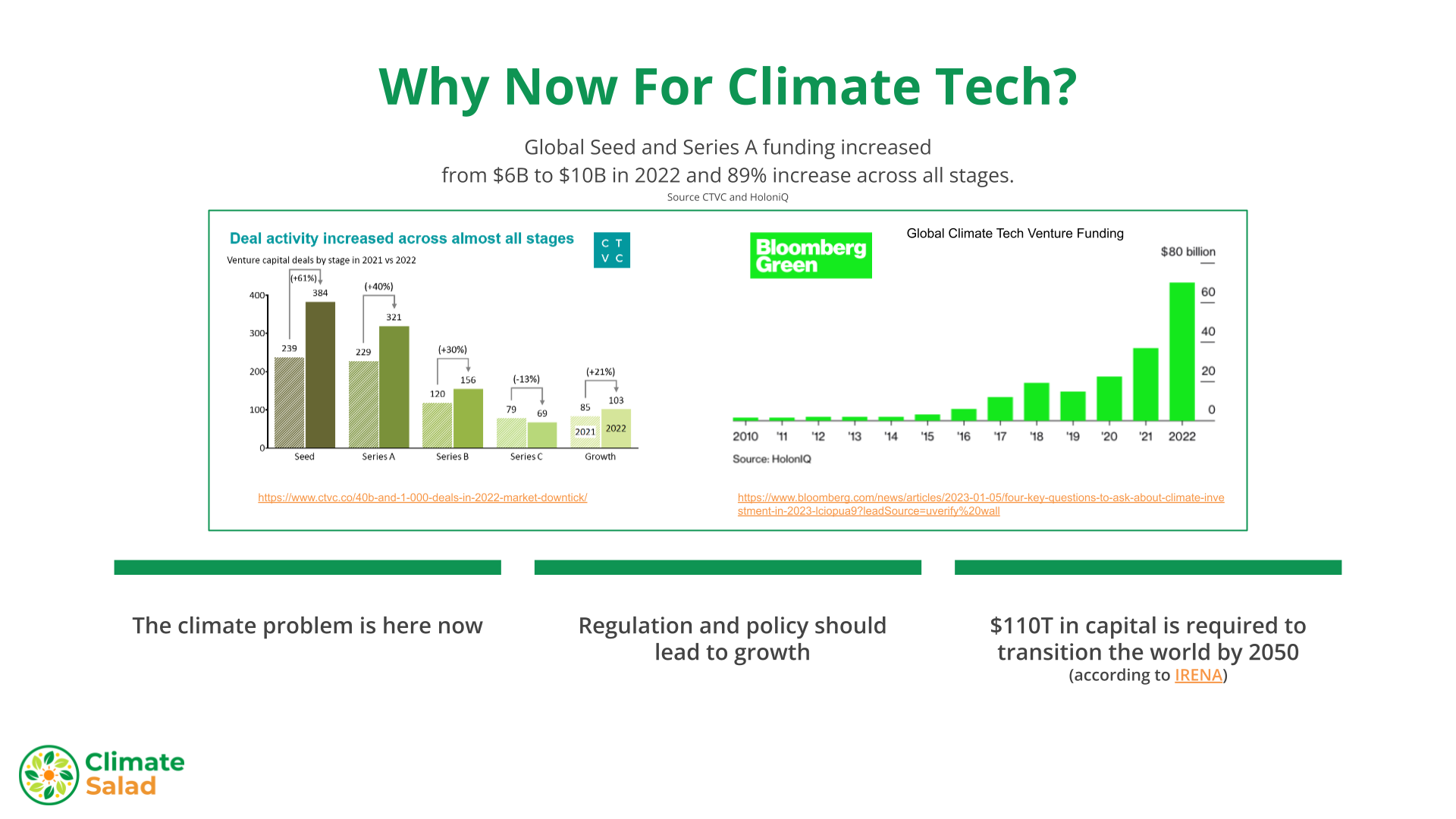 Investment
$5,000 and up in individual companies as well as cohorts of companies. Potentially dozens of companies per year.
Network & Learn
Join a community of climate tech mentors, investors & advocates. Get up to speed with the emerging climate tech industry and how it is addressing climate change and sustainability.
Data
Each year we produce a Climate Tech Industry Report with data, narrative and insights into this important, fast growing industry. 
View and download the latest report here: 
Team
Mick Liubinskas, Co-Founder & CEO
Besides being a startup founder multiple times, Mick co-founded two iconic Aussie startup accelerators, Polleniser and Telstra's muru-D. He has been a prolific Angel investor and co-founded Climate Salad in 2021. 
His climate tech startup investments include: Phoenix Hydrogen, alga, Cecil, Terra.do, Spira, Kapture, Ripe Robotics, AKUA PBC.
Notable muru-D companies that he worked with include: AgriWebb, regrow, FloodMapp, Alta VR.
Stefan Knight, Head of Growth
Stefan moved to Aus in 2012 after spending the bulk of his career in network equipment and telecom startups in Silicon Valley from the early 90's. He has had roles in dev, product, marketing, sales and corporate development. He has been a founder and a key early employee. Highlights: $400M in VC capital, $5B IPO, trade sale to Ericsson, $80M/400 people wind down. 
He joined Mick at muru-D to build out the mentor and investor communities as well as coaching startups on goto market strategy and business development. At Climate Salad he does these things as well as driving the Global Growth Program which helps startups expand internationally.
Notable muru-D companies that he worked with include: AgriWebb, regrow, FloodMapp, Alta VR.
Global Growth program startups he is coaching: Great Wrap, Pyrochar, Avarni, Good On You, Rainstick, Agtary, Kapture, Cecil, Allegro Energy, Sicona Battery Technologies, Aspire, ConryTech, Bardee, Goterra, Climasens, Everty, Energy Synapse, FloodMapp, Kite Magnetics, ONVOL, NetNada, OhmieGo, Orkestra, Val.Ai, Planet Protector Packaging.
Requirements
There are no specific requirements to join this syndicate or fund.
Our aim is to bring together a group of people who believe that the combination of innovation and entrepreneurship can be used to have a material impact on the pressing environmental problems we face in the next 100 years.
Commitment to invest required: None
Fees to join: None

Climate Salad Capital Pty Ltd is a corporate authorised representative (CAR) of Boutique Capital Pty Ltd ACN 621 697 621 (Boutique Capital) AFSL 508011.